There is hope for Miami after all. Our situation regarding BSL
The past few days have been the most challanging for me in regards to my show. I decided to bring down APA and Irondog to my event without thinking about the situation the APBT Commuinty would run into if the came to Miami. Has most of you know we are under BSL and APBT's are not allowed in Miami-Dade county. I am proud to announce that anyone with an APBT will have safe passage into Miami-Dade county to have the opportunity to come and compete in APA and Irondog events. All this was possible with the help of an organization called "Pitbulls in Miami need love too"

Below is the letter given to us by Miami-Dade county animal services granting us permission to have the APBT's. This is the first time since the ban as been put into place that anyone would be allowed into Dade County with APBT. This as truley been a blessing and I am grateful to have this opportunity.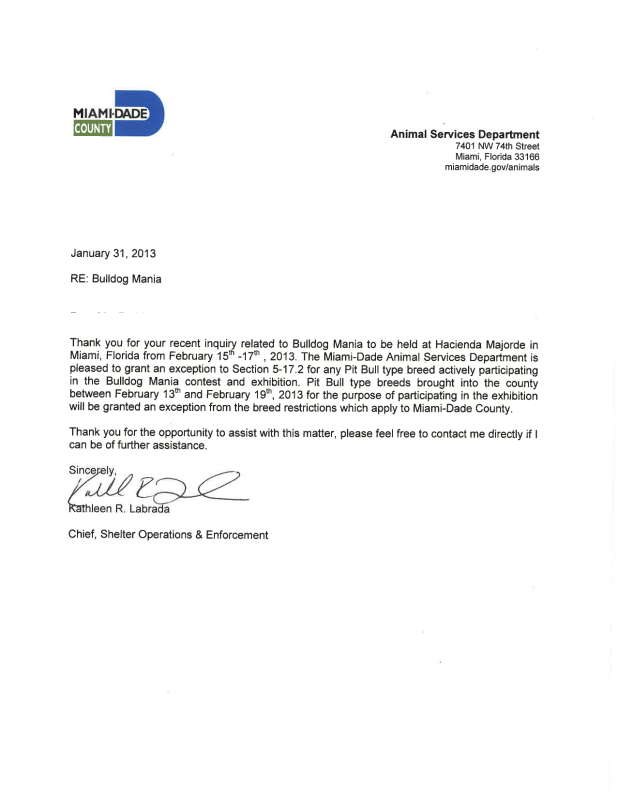 ---
LET THEM HATE SO LONG AS THEY FEAR

"We are all attracted by short-cuts, quick fixes and easy solutions.But character takes time to shape and build."