The Miami Bulldog Mania Club is proud to bring you for the third time in row the Bulldog Mania Show.
FOR THIS SHOW ONLY WE ARE HAVING A SLIGHT NAME CHANGE; BUT EXPECT THE SAME EXCELLENT QUALITY SHOW AS WE HAVE HELD IN THE PAST!
We have decided to do a full Charity Show for Paws For Patriots.
100% YES 100% of the proceeds of the show will go to
the Charity.
Paws For Patriots is a program that is part of the Southeastern GuideDog Association;
a cause we find very worth while.

This is a 100% Charity Show. All the money that is brought in will go directly to Paws For Patriots. So we are not taking our cut then donating the rest...Now is the time to show support and give back while your at it...This is going to be another great show in Florida..If you are close by, please join us.

September 28-29, 2013

More info is being posted on the www.Bulldogmaniashow.com website.

We also have a facebook page, just look up Paws for Patriots Charity Show.

We are also looking for sponosors.

We are gearing up to bring you yet again another amazing event in 2013 sanctioned by the ABRA!!!
That's right mark your calendars for Sept 2013. If you missed our show in February you wont want to miss this one.

$$$----We will also for your convenience be set up to accept all major ----$$$
$$$---- credit/debit cards as well as cash this year. ----$$$

We will be having four conformation shows in one weekend right here in sunny North Florida.
We welcome everyone and their family to come and enjoy a weekend full of exciting events and bulldog fun.
We are very excited to welcome back Irondog. They did an amazing job working and titling dogs at the last show, so we are glad to have them back for this one too. We would really like to see more people bring their dogs out
and get some work in. If your not looking to get a title let them get some play in with one of our qualified decoys.

Its going to be a great time for a great cause and hope folks come out ready to play and work.

RULES:
No female Dogs in Heat.
All dogs must be on collar & Leash, or crated at all times. No exceptions.
All dogs need to be kept under control at all times.
No Aggressive dogs. If you cannot control your dog you will be asked to leave.
Clean up after your dogs and yourselves. No exceptions!!
Entrance fee, and show registrations can be in the form of either cash/debt or credit this year!

LETS HAVE FUN AND SHOW SOME BULLDOGS!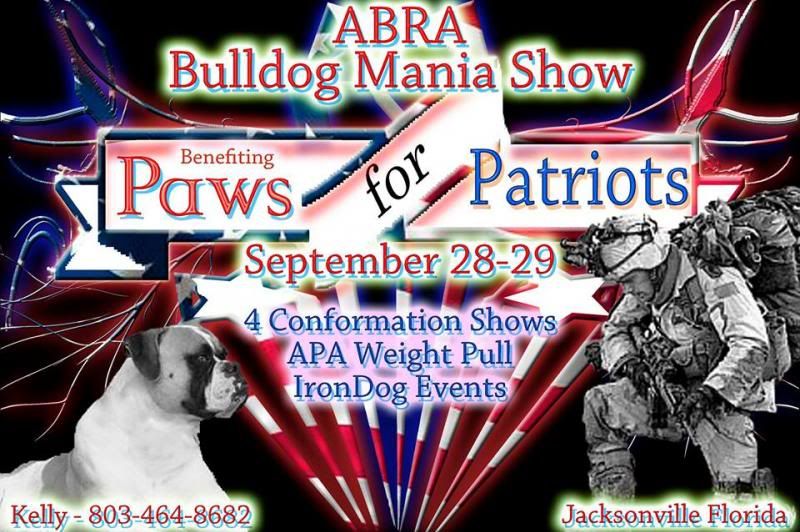 Last edited by kellyn (8/14/2013 6:17 pm)